What Is Glyceryl Trinitrate?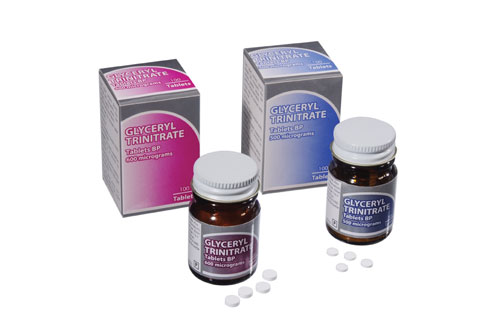 Glyceryl trinitrate is a type of medicine belonging to the nitrate group. It is used for treating angina, heart failure and is also used as a rectal ointment for relieving the pain caused by anal fissures, which are tears in the lining of the anal passage. This medicine is also known by the name of GTN, Nitro-Dur, Coro-Nitro, Nitromin, Transiderm-Nitro, Deponit, Percutol, Nirtolingual and Minitran. It is available in the form of ointment, spray, injection, patches and sublingual tablets (to put under the tongue).
How Does Glyceryl Trinitrate Work?
The primary use of this medicine is to increase the flow of blood through the heart by relaxing the blood vessels. As the blood vessels get widened, the symptoms of heart failure and angina subside since the heart no longer has to do an extensive amount of work in pumping the blood throughout the body.
In addition to this, Glyceryl trinitrate also known as GTN in ointment form is prescribed for rectal problems that do not respond well to other treatments. It relaxes the muscles present inside the anal passage. As the muscles are relaxed, the blood flow to this area increases. This helps in promoting the healing process and diminishing the pain.
Can You Use Glyceryl Trinitrate?
Patients of certain conditions cannot take some drugs and sometimes can only take a medicine if they are extra careful with it. Therefore, it is essential that you do not start GTN unless your pharmacist or doctor knows:
ŸIf you are pregnant, breastfeeding or trying to conceive.
ŸIf you suffer from liver or kidney issues.
ŸIf you have low blood pressure.
ŸIf you suffer from hypoxaemia (low oxygen levels in blood) or anaemia (low iron levels in blood).
ŸIf your thyroid is underactive.
ŸIf you suffer from increased pressure in the eyes (glaucoma).
ŸIf you had a heart attack or head injury in the near past.
If you have suffered from any allergic reaction to a drug in the past.
ŸIf you are having some different medicines, over-the-counter drugs and complementary or herbal medicines.
ŸIf you are using products that are prescribed for the treatment of erectile dysfunction such as Viagra.
How to Take and Store Glyceryl Trinitrate
Reading the manufacturer's information that is printed on the leaflet inside the medicine pack is important before making use of it. You will find more information about this drug as well as the side-effects that might occur after its use from the leaflet.
1. Glyceryl Trinitrate for Angina or Heart Failure
ŸSpray. If pain arises, then spray the glyceryl trinitrate a few times under your tongue. After spraying, close your mouth quickly. You will feel the pain diminishing within a few minutes. Spray for a second time after a gap of five minutes if the first dose fails to bring relief. You must call an ambulance if the pain does not ease up even after taking GTN and persists for over 15 minutes.
ŸSublingual tablets. If you feel pain, then place a single tablet under your tongue and give it time to dissolve. It will take only a few minutes for the pain to ease up. Take a second tablet if the first one fails to bring pain relief, but do so after five minutes of taking the first tablet. Call an ambulance if the pain persists over 15 minutes even after taking Glyceryl trinitrate.
ŸPatches. Apply a single patch every 24 hours. Usually, the upper arm or the chest is the right place to apply the patch. However, you might have to apply it on a different area if you are given a different brand of patches. The patch should be applied to a different area each time. Besides, it must be removed at night, so the blood is free of nitrate while sleeping.
ŸOintment. Using the direction that comes with the medicine, take 1 to 2 inches of ointment and apply it on your thigh, chest or arm after every 3 to 4 hours, depending on your pain. Apply the ointment on a different skin area each time.
2. Glyceryl Trinitrate Ointment for Rectal Problem
Take out around 2.5cm of ointment on your finger. It is up to you to make use of a disposable glove or a finger cot as a finger covering for applying the ointment. Insert the ointment into the anal passage using your finger. Apply the ointment in this manner twice a day until you find relief from the pain. The ointment can be used for a period up to 8 weeks.
3. Storage of Glyceryl Trinitrate
Here are some cautions you should know when you store glyceryl trinitrate.
ŸSublingual tablets can be stored in the original container. You can use them for up to a period of 8 weeks after the opening of the container.
ŸKeep this medicine out of the reach of children.
ŸStore the drug in a dry and cool area that is away from direct light and heat.
What Are the Side Effects of Glyceryl Trinitrate?
Like all medicines, glyceryl trinitrate has some side effects in addition to its numerous advantages, but there is a chance that you might not experience them. Most of the side effects do not last long and go away as soon as your body becomes used to the drug, which include:
Ÿ Flushing
Ÿ Anxiety
Ÿ Stomach pain
Ÿ Chest pain
Ÿ Sweating
Ÿ Slowing of the heart rate
Ÿ Bleeding from the rectum (rectal ointment only)
Ÿ Soreness, itching or discomfort in the anal passage (rectal ointment only)
Ÿ Serious allergic reaction
Ÿ Loss consciousness for a while
Ÿ Increasing heart rate
Ÿ Nausea
Ÿ Vomiting
Ÿ Headaches
Ÿ Low blood pressure
Ÿ Dizziness
Ÿ Diarrhea
Ÿ Itching, burning, swelling and rash