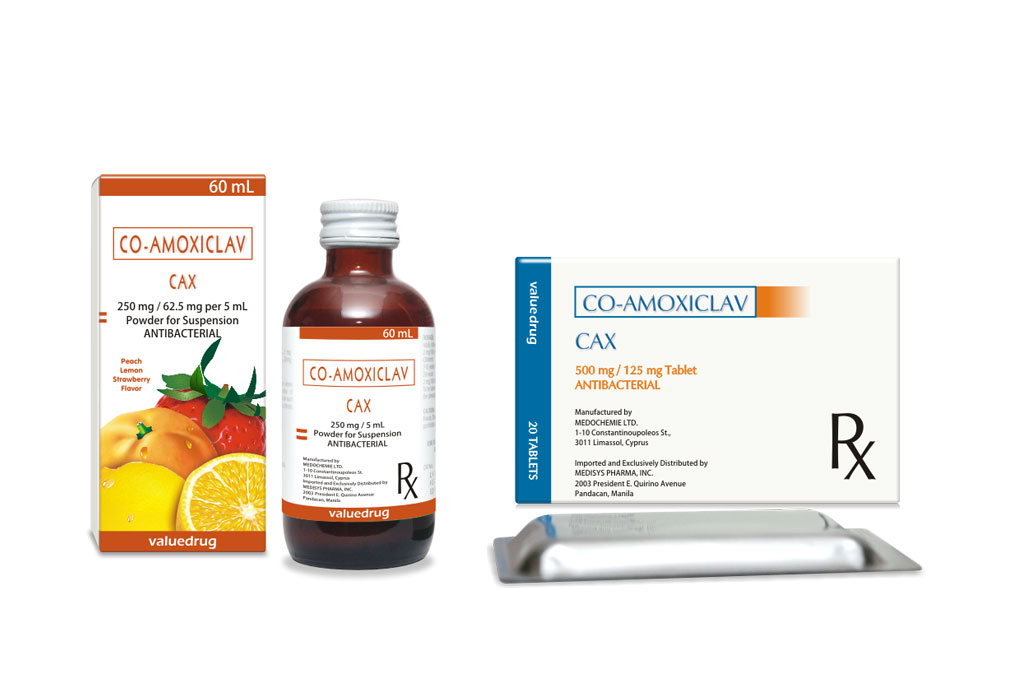 Co-Amoxiclav is an antibiotic derived from Penicillin in the form of tablets, oral liquids and injections. It is also available as Augmentin & Augmentin-Duo. It is mainly used for treatment of infections in both adults and children. The main ingredients of this drug are amoxicillin and clavulanic acid. Amoxicillin is derived from penicillin and kills bacteria to treat infection. Some chemicals released by bacteria can reduce the effectiveness of amoxicillin, and to counter this clavulanic acid is added to the drug. It stops the chemicals from acting and allows amoxicillin to kill the bacteria.
When Is Co-Amoxiclav Needed?
Co-Amoxiclav is prescribed for bacterial infections like respiratory infection, urinary tract infection, skin, bone or mouth infections. It is also used to prevent infections from occurring. For example, if a person is undergoing a surgery and is at risk of getting an infection, co-amoxiclav will be prescribed.
Can You Use Co-Amoxiclav?
Co-Amoxiclav is not suitable for all people and entire medical history should be informed to the doctor who is prescribing the medication. The medicine should be not used randomly or indiscriminately. The medicine may or may not be prescribed in case if you:
Are allergic to Penicillin, beta-lactam antibiotics like Cephalosporins, Carbapenems or monobactams, etc.
Have allergy or sensitivity to ingredients present in the medicine.
Are elderly or passing less urine than normal.
Are suffering from glandular fever, glucose-galactose malabsorption, kidney or liver problem.
Have atopic allergies, phenylketonuria or suffered from jaundice due to Augmentin-Duo.
How to Take Co-Amoxiclav
Drug cannot be taken like food, you should follow some rules to take any drug, so is co-amoxiclav.
Ensure that you read the leaflet provided along with the medicine, which provides details about the specific brand and possible side-effects of the medicine.
The medicine should be taken exactly when recommended by the doctor or pharmacist. The dosage is usually mentioned on the label as well.
It can be taken before or after meals.
Unless asked to, do not discontinue the medication before the entire course has been completed. This is done to ensure that the infection does not recur. Usual course of the medicine does not last for more than 14 days
If you miss a dose, take it as soon as you remember and try to balance the number of doses in the day. However, never take 2 doses at the same time.
How to Store Co-Amoxiclav
Keep the medicine away from the reach and sight of children.
In case of oral co-amoxiclav suspension, store it in the refrigerator for no longer than 7 days. It should not be used beyond the date of expiry mentioned.
The tablets should be stored in a cool and dry place with no direct exposure to light and heat.
What Should Be Noted When Taking Co-Amoxiclav?
There are chances of the medicine affecting your ability to drive or operate machinery. Before taking up any such activity, it is important you check how the medicine affects you and whether you can drive safely or work on machines. In case of any doubts, you should consult the doctor.
Co-amoxiclav is known to pass into the breast milk, so it is important to discuss with the doctor about breast feeding before the baby is born. Depending on the benefits and risks, you will be advised to breast-feed the baby or not. Without the confirmation from the doctor, you should refrain from breast feeding.
If you experience any allergic reaction after taking co-amoxiclav, like difficulty in breathing, red rashes or swelling around the mouth, you should immediately contact the doctor.
The medicine can interact with certain vaccines and stop their effects, such as the oral typhoid vaccine. Ensure that the doctor is aware of any vaccinations you are taking.
In case of any planned surgery or dental treatment, the doctor should be aware that you are taking co-amoxiclav.
Oral liquid form of co-amoxiclav can cause staining on the teeth. However, this is a temporary effect and will disappear once you finish taking the medicine.
What Are the Side Effects of Co-Amoxiclav?
If you experience any kind of allergic reaction or side effect on taking the co-amoxiclav medicine, you should consult the doctor immediately. The side-effects may not be limited to the ones given below.
1. Mild Side Effects
Diarrhea, indigestion, stomach pain, feeling sick
Abnormal taste, white, furry or sore tongue and mouth
Soreness or itching in the vagina & vaginal discharge
Headache, dizziness, tiredness & hot flush
Discoloration of teeth
Feeling unusually active/hyperactivity
2. Serious Side Effects
Rashes and itching
Dark urine and pale stools
Jaundice
Severe cramps in the stomach
Severe watery or bloody diarrhea
Unusual bleeding or bruising
3. Very Serious Side Effects
Fits or seizures
Wheezing, hives, severe skin reaction
Fainting, difficulty in swallowing or breathing
Swelling in the limbs, face, lips, mouth or throat
Swollen lymph glands, Swelling in joints
Nausea, vomiting and fever
Are There Any Medicines That Can Interact with Co-Amoxiclav?
The doctor should be aware if you are taking Co-Amoxiclav or similar medication before he prescribes you any other medication. The medicines given below can interact with Co-Amoxiclav:
Acenocoumarol
Allopurinol
Methotrexate
Probenecid
Warfarin
The following types of medicines may also interact with Co-Amoxiclav
Anti-coagulants
Any medicines that are damaging to the liver