High levels of mono-unsaturated fatty acids and Vitamin E makes olive oil an ideal addition to your hair care routine. Besides antioxidants and anti-inflammatories in olive oil prevent dandruff, promote hair growth and increase the health of your scalp. Read more to learn how to use olive oil mixtures for hair.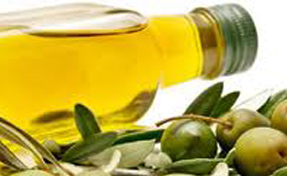 Benefits of Olive Oil for Hair
Styling your hair and lifestyle choices can lead to scalp and hair problems. Olive oil can help to solve some of these issues.
Reduce Dandruff
One of the main causes of dandruff is a dry scalp. Massage olive oil into your scalp once or twice a week during your regular shampoo to provide extra moisture to the skin.
Reduce Split Ends
Although olive oil will not cure split ends, it can be a temporary solution for the frizziness caused by this problem. After you dry and style your hair, use a very small amount of olive oil on the ends of your hair to temporarily "glue" the ends together.
Add Shine
Using olive oil regularly can add moisture and shine to your hair. Shampoo your hair and massage olive oil into your hair instead of your regular conditioner.
Gain Softness
Split ends and dry hair can make your hair feel less than soft. Increase the softness in your hair by adding a deep conditioning treatment with olive oil each week.
Being More Manageable
If your hair is unmanageable and impossible to style due to being dry, you can add an olive oil treatment to make your hair more manageable. Massage olive oil into your hair and leave it in for 30-45 minutes before washing it out.
How to Use Olive Oil for Hair
Using olive oil by itself will provide health benefits to your hair and scalp. Besides, you can use specific mixtures to combat some hair problems.
Mix with Tea Tree Oil
If you have dandruff, the combination of olive oil and tea tree oil may provide relief due to the anti-fungal properties of both ingredients.
1. Mix 3 tablespoons of olive oil and 10 drops of tea tree oil.
2. Apply this mixture to your hair and scalp before you go to bed.
3. Shampoo your hair in the morning.
Mix with Castor Oil
To fight split ends and hair loss, use a mixture of half olive oil and half castor oil.
1. Warm the mixture on the stove and apply to your hair and scalp. Be sure the mixture is just warm to prevent burns to your scalp.
2. Dip a towel into warm water, wring it out, and wrap your hair in the towel.
3. Leave the mixture in place for 20 minutes then gently shampoo your hair.
Mix with Egg and Lemon Juice
A mixture of egg yolk, olive oil and lemon juice makes a great moisturizing conditioner for your hair.
1. Combine ½ cup olive oil, 1 egg yolk, and a teaspoon of lemon juice in a microwaveable bowl.
2. Microwave the mixture for 10-15 seconds until it is warm.
3. Massage the mixture into your hair and let it stand for 15-20 minutes before rinsing off.
Mix with Honey and Cinnamon
A mixture of olive oil, cinnamon and honey can help to control dandruff and dry scalp.
1. Gently heat 2 tablespoons of olive oil.
2. Mix in 1 tablespoon of honey and 1 teaspoon of cinnamon powder.
3. Apply this thick mixture to your hair and leave it for 15-20 minutes before rinsing off.
Videos of Using Olive Oil for Hair
There are videos on the internet that will show you how to use olive oil as a treatment for your hair. Using common household ingredients and a microwave, these videos will give you a couple of additional options for treating your hair.
Olive Oil Hair Treatment
This one has great music as a background and clearly shows how to use olive oil to condition your hair and make it shiny and soft. It stresses the importance of how to shampoo your hair after the oil treatment.
Olive Oil and Honey Hair Mask
Another video with a musical background, this video shows how to use olive oil and honey to condition dry, frizzy hair.