Work does not seem all that taxing when it involves something you love. For some, jobs that can work with babies are the ones that they desire the most. There are certain qualities that a person needs to have to be able to work with babies. Read about the jobs we have outlined and see if they are what you want.
Jobs That Work with Babies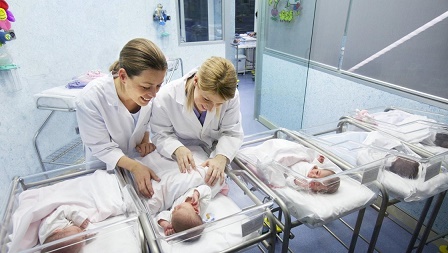 1. Newborn Specialist
A newborn specialist or a baby nurse is an excellent career for someone who likes working with babies. The job entails taking care of babies in their homes during their first few months of life. This period is very crucial and a person taking up this responsibility will have to arrange for the necessary immunizations and observe any signs of disease that might not be immediately apparent to others. The average pay for people of this job is $73,000 annually. However, the daily traveling to the place of work might be quite long.
2. Infant Teacher
Infant teachers are those that take care of the child before he or she is ready to go to school. They teach children about simple things like shapes, recognizing everyday objects, working on their reading and other similar skills.
This job is usually carried out at the client's premises and is perfect for people who are looking for something working with babies and toddlers. This job is not for those who are looking to make a lot of money though, as the average pay hovers around $25,000.
It is one of the jobs that work with babies which is relatively stress-free and ideal for someone looking to augment their income without a full-time commitment.
3. Neonatal Nurse
The scope of responsibilities that a neonatal nurse deals with is similar to those encountered by a newborn specialist. To be a neonatal nurse, however, you require a nursing degree as well as a further qualification in caring for neonatal children.
Jobs are available in a hospital setting or in private homes. Usually, the children that require a neonatal nurse will be premature babies or those born with developmental disorders. The average pay for people in this profession is around $75,000.
4. Pediatrician
A medical doctor that treats children of all ages is called a pediatrician. This is a very fulfilling profession. It requires successful completion of a medical school, a residency in pediatrics and then the license to practice. People who go through all these steps can then choose to practice general pediatrics or to specialize in a field. The average salary for a pediatrician is around $175,000.
5. Midwife
Midwives start taking care of babies while they are still in the womb. Among jobs that work with babies, this is probably the one with the least direct interaction with babies! They are required to take care of the mother and help her right through the time she gives birth. The average salary for a midwife is around $104,740.
6. Infant Massage Therapist
This is an excellent option for someone who adores babies. People looking to enter this field are required to have an infant massage therapy certification. They can then look for jobs in hospitals, private clinics or build up their own client base as freelancers.
The biggest advantage of this profession is that it has relatively low pressure and allows flexibility in working hours. The salary is around $19.30 per hour.
7. Nursery Assistants
A lot of parents choose to leave their children in nurseries when they are at work and the person responsible for taking care of these children is the nursery assistant. Their responsibilities include cooking, maintaining hygiene, chaperoning on outings, etc.
People interested in this profession need to have a certificate in childcare, and the average salary is $55,000.
8. Babysitters
Of all the jobs that work with babies, being a babysitter is probably the best known one. Babysitters will usually go to their employer's house for work and be expected to bathe, dress and feed the baby. They are also expected to be alert and ensure that the child does not indulge in any unwanted behavior.
They are responsible for the child's well-being in the absence of the parents. They must be well versed in emergency first-aid, CPR and have loads of patience to succeed in this job! The average salary is about $13.44 per hour.
9. Day Care Workers
Day care workers are responsible for taking care of babies and children for a longer duration than other jobs. They will keep track of the babies' feeding schedule, instill discipline, plan activities that help in the mental and physical development of the child, teach social skills and keep detailed records of the children's development to communicate to their parents.
People looking to enter this field will be required to be certified in child education or childhood development. The average salary is $20,320.
10. Autism Specialist
Autism is a disorder and the affected child has trouble developing social skills, particularly related to communication and expression. This is one of the most fulfilling jobs that work with babies since it helps impart life-changing assistance.
An autism specialist is required to be able to recognize signs of autism early, communicate any findings to the parents, plan a coping strategy and help in the acquisition of those social skills that will allow the child to live a normal life.
To be an autism specialist, a master's degree and a couple of years of work experience in the field is a must. The average salary is about $80,000.
11. Early Intervention Specialists
Children with special needs or those who have been diagnosed with developmental disorders require a team of professionals to help provide care. The early intervention specialists work as members of this team, most commonly in a hospital setup but in private residences as well.
Their job is to create a healthy environment for the child and to aid in helping him or her come to terms with the disability. These specialists will also counsel parents and provide support wherever necessary. They also help arrange classes, educators and other support systems that the child needs to aid in normal development.
Specialists in this field need to have a bachelor's degree with a specialization in speech therapy, physical therapy, early childhood education or occupational teaching. The average salary is about $37,540.