Hunger can strike you anytime – while plugging through a long, tiring work day, journeying through the airport, or even driving through town. When hunger strikes you, it is quite common to look for a pizza joint, an ice cream stand, or even a Chinese food buffet. One great choice is Subway. It has been there for so many years now, and it is never difficult to find one in your area. This restaurant chain makes some great salads, sandwiches, and breakfast foods.
What Is the Healthiest Subway Sandwich?
When it comes to sandwiches, you can find quite a few varieties of them at Subway. Veggie Delite Mini Sub is probably the healthiest Subway sandwich considering its low calorie content (150 calories). Turkey Breast Mini Sub is another nice choice because it delivers on 180 calories. Here are some other options considering the number of calories they have:
| | |
| --- | --- |
| Sandwich | Calories |
| Black Forest Ham Mini Sub | 180 |
| Roast Beef Mini Sub | 200 |
| Veggie Delite (6 inches) | 280 |
| Turkey Breast (6 inches) | 280 |
| Turkey Breast and Ham (6 inches) | 280 |
| Black Forest Ham (6 inches) | 290 |
| Subway Club (6 inches) | 310 |
| Oven Roasted Chicken ((6 inches) | 320 |
| Roast Beef (6 inches) | 320 |
| Cold Cut Combo (6 inches) | 360 |
| Monterey Chicken Melt (6 inches) | 360 |
| Sweet Onion Chicken Teriyaki (6 inches) | 370 |
| Subway Melt (6 inches) | 370 |
| Steak and Cheese (6 inches) | 380 |
| Italian B.M.T (6 inches) | 410 |
What's more, 6-inch Meatball Marinara, 6-inch Tuna, and 6-ich Spicy Italian all have 480 calories per serving. 6-inch Chicken and Bacon Ranch Melt has the highest number of calories – a serving will give you about 570 calories. However, it is important to consider what other nutrients are there in each of these sandwiches to be able to select the healthiest Subway sandwich.The following chart will provide you with what you will get when you eat a serving of different Subway sandwiches.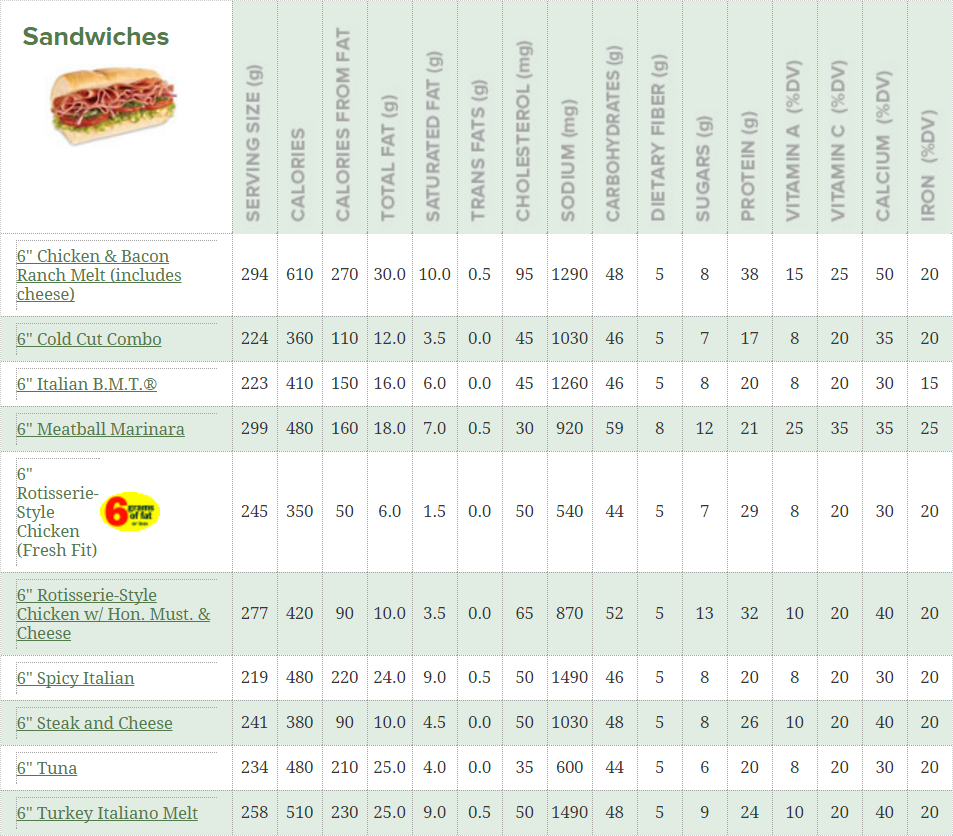 Example Choices for You
Try Sweet Onion Chicken Teriyaki with 6'' 9-Grain Wheat
You will get 370 calories per serving with 770mg of sodium, 4.5g of fat, 5g of fiber, 58g of carbs, 25g of protein, and about 16g of sugars.
Veggie Delite with Mustard and Avocado on 6'' 9-Grain Honey Oat
One sandwich provides you with 310 calories only and makes it a good low-calorie choice for you. The addition of avocado helps you get about 9g of healthy fat. It also contains 410mg of sodium, 8g of fiber, 50g of carbs, 10g of protein, and 8g of sugars. The presence of honey oat bread makes it a lot more delicious.
Avoid Chicken & Bacon Ranch Melt
While the above two options are super healthy, you should avoid anything like Chicken & Bacon Ranch Melt because it contains up to 600 calories with 130mg of sodium, 32g of fat, 3g of fiber, 45g of carbs, and 8g of sugar. It does contain 38g of protein though, but it is still the most fattening sandwich on Subway menu.
How to Make Smart Choice on Sandwich at Subway
While having some information about the caloric content of different Subway sandwiches will help you make a good choice, you also need to consider some other points to find the healthiest Subway sandwich.
Choose Your Bread
You will have a hard time making a right choice of bread at Subway because even the 9-grain is loaded with wheat flour. They all have almost the same amount of calories, but a better choice would be to opt for the 9-grain wheat bread and the honey oat. They do contain calories but they also have a good amount of fiber.
Choose Your Toppings
The best choice would be to fill your sandwich with some nice, flavorful vegetables. You should be avoiding high sodium meats to meet your fitness goals. If you really want to enjoy meat, you will be better off opting for meats like turkey, ham, and roast beef.
Choose Your Condiments
When it comes to condiments, you should avoid opting for creamy, high-fat sauces and dressings. Fattening dressings like Chipotle sauce, mayonnaise, and toppings like bacon or pepperoni can add to the overall number of calories. These additions can make an otherwise healthy sandwich quite unhealthy. You should be opting for lighter options such as sweet onion sauce, mustard, or olive oil. Go for light mayo if you really cannot live without mayonnaise. No cheese in any form though!
Tips on Choices of Subway Sandwiches
Subway makes use of fresh vegetables in its offerings, and it really helps keep it above many other traditional fast food places. It is also a better choice than sit-down restaurants where you get huge portion sizes. It offers a healthier line of flatbreads or subs under 6g of fat, but you add about 50 calories to this mix by adding cheese. Opting for baked chips will keep you from ingesting 130-140 extra calories to your system.
It is a good idea to avoid the Subway Club as well as the Black Forest Ham because they both are high in sodium. The 6-inch Veggie Patty is a better choice here. The following tips will also help you make a better choice at Subway.
Opt for a 6-inch sub if you want a bigger portion size – you can share it with a friend or save the rest for later.
Get the wheat bread or opt for the honey oat bread if you are looking for more fiber.
Try the mini sandwiches if you are looking for a quick bit without ingesting more calories than 200.
Try Subway's salad base iceberg lettuce to keep calories in check but opt for the veggie topics to get more vitamins.
Try raisins, apple slices, and yogurt or try their soups for low-calorie sides. The fire-roasted tomato orzo and the chicken tortilla are some great choices with overall calories under 130.
Avoid cookies because they have about 200 calories with 10g of fat.