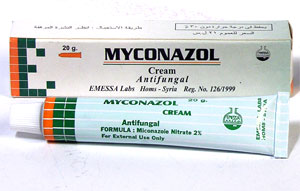 An antifungal agent, miconazole cream is used to treat infections of the skin, such as jock itch, athlete's foot, as well as vaginal yeast infections. Sometimes, this medication is also prescribed for other uses. Miconazole cream is also known as Daktacort and Daktarin, which is miconazole with hydrocortisone. This is available in the form of spray, powder, ointment or cream.For vaginal infections used for vaginal thrush, this medicine is known as Gyno-Daktarin and comes in a capsule or cream form for your convenience.
When is Miconazole Cream Needed?
1. Skin Infection
Even though several kinds of fungi live on our skin harmlessly, some could cause an infection. The most common of "bad" fungi are the tinea group. A common fungal infection of the feet and toes, Athlete's foot, is caused by one of the fungi from this group. Infections which are caused by a yeast or fungus can affect other areas of the body as well. Some examples of these include fungal groin infections, fungal nappy rash, fungal sweat rashes and fungal nail infections. Miconazole will relieve the symptoms of these skin infections by killing off the fungi which have caused the infections.
2. Vaginal Infection
Several women occasionally go through a bout of vaginal thrush. This is due to an infection with a yeast fungus known as Candida spp. A majority of these cases of thrush are caused by the yeast Candida albicans, however, other types of Candida spp can cause thrush as well. Symptoms which are commonly seen with vaginal thrush are soreness, itching and redness around the outside of the vagina, plus a creamy, thick, odorless, white vaginal discharge. Miconazole works by killing off the yeast fungus which caused the infection.
Can You Use Miconazole Cream?
Not all medicines are suitable for people with particular conditions, and a medicine may only be used sometimes if extra care is taken. Before you start to use miconazole, it is important to tell your doctor:
If you are pregnant. Telling your doctor you are expecting a baby is very important, as you might need to use miconazole for an extended period of time during your pregnancy than usual.
If you're using any other creams or taking any other medicines. This will include any medicines that are available over the counter, like herbal and complementary medicines. This is important since miconazole is able to affect the way anticoagulant medicines (like warfarin) work.
If you've ever had an allergic reaction to a medicine.
How to Use Miconazole Cream
Read the leaflet of printed information from the manufacturer inside the pack before you begin treatment. It will give you additional information about miconazole cream and how to use it. Generally, you should:
Wash and dry the area of skin which is infected before you use miconazole. You'll need to use the cream regularly for a few weeks. After all signs of your infection are gone, keep using it for another one to two weeks, since this will help to prevent the infection from reoccurring.
If you are using miconazole for a skin infection, use a small amount on the area that is affected twice daily, ideally in the morning and at night. Rub the cream gently.
If you're using miconazole for a nail infection, use the cream on the infected nail once to twice daily.
If Gyno-Daktarin cream has been prescribed to you, you'll either be asked to use the cream once each day for ten to fourteen days, or twice each day for seven days. Puncture the seal on the tube and put one of the disposable applicators on the tube. Squeeze the cream when the plunger gets to the stop mark. Take the applicator off the tube, and then insert the end of the applicator that is filled with cream into your vagina. Release the cream into your vagina by pushing the plunger. Throw the applicator away after use.
If you have been prescribed Gyno-Daktarin cream for only the area around the outside of your vagina, use it twice daily and gently rub it in.
Note: When you store miconazole cream, you should:
Keep any medication out of the sight and reach of children.
Keep in a dry, cool place and away from light and direct heat.
Gyno-Daktarin cream should be stored in the refrigerator.
What Are the Side Effects of Miconazole Cream?
Stinging, burning, irritation, swelling, tenderness, pimple-like bumps or flaking might occur in the area of the skin which is treated with miconazole. If any of these symptoms worsen or persist, let your doctor or pharmacist know right away.
If you've been directed by your doctor to use this medication, don't forget that he or she has deemed the benefit to you is better than the risk of any side effects. A lot of people using this medication don't have any serious side effects.
An allergic reaction to miconazole cream that is very serious is rare. However, seek immediate medical attention if you see any symptoms of an allergic reaction that is serious which includes itching/swelling (especially of the tongue/face/throat), rash, and trouble breathing or severe dizziness.
Besides, immediately tell your doctor if any of these serious but unlikely side effects occur: as oozing, blistering or open sores.
This isn't a complete list of side effects that are possible. If you see any other effects which are not listed here, talk to your doctor or pharmacist.